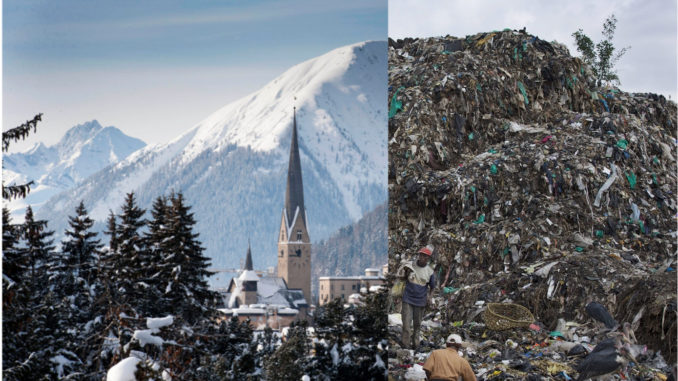 In this week's blog, Ben Phillips considers the global concentration of power and wealth and the struggle to reduce inequality through grassroots activism.
January saw an important step forward in building political will to tackle inequality as people gathered at a famous mountain to pledge to tackle it. I'm not, of course, referring about Davos, which every year pledges action but whose actual record in reducing inequality has been summarized by Branko Milanovic, as having "produced 0 results". For students of history, this should all be unsurprising: never, at any time or place, have great strides been made in tackling the concentration of power and wealth by a few by literally concentrating together those powerful and wealthy few. No one should have been too shocked when World Economic Forum leader Klaus Schwab praised Trump's rushed and irresponsible tax giveaway to billionaires that is cutting services, increasing debt and widening inequality, with this: "On behalf of the business leaders here in this room, let me particularly congratulate you for the historic tax reform package passed last month, greatly reducing the tax burden of US companies".
I'm referring instead to the very different gathering at a very different mountain, the Usawa Festival ("Equality Festival") held at Dandora, the Nairobi slum built on a garbage mountain. These two videos – the first about the context of the "two mountains" of Davos and Dandora, and the second from the festival – give a flavour of what took place, as does this piece by Reuters. The gathering at Dandora was a centerpiece of a series of rallies and events in over 30 countries across the world, some of which are pictured in this video. The gatherings were organized by groups who have come together in the international Fight Inequality Alliance of NGOs, unions and social movements, to build power up from the grassroots. Only by building power, they have concluded, can they counter the political power of elites and pressure decision-makers to honour their pledges to tackle inequality with deeds not words.
Though these popular gatherings picked the moment of Davos to disrupt the global conversation, their purpose was not to lobby Davos, a forum in which activists place no hope. Rather, the popular gatherings' purpose was to help shift the gaze of governments and the national conversations from one type of mountain to another, and to help groups strengthen their unity, strength and confidence for the long term struggle to reduce inequality. Through the process of mobilising, the national Fight Inequality Alliance coalitions have become more united, with a clearer view and greater commitment about organising for the year ahead and the years ahead. They will be organising over the coming years to demand amongst other things from government inequality-busting national budgets and improvements in minimum wages and workers' rights.
In debates on inequality, most of the focus is on the details of how bad inequality is getting, and much of the rest of it on what policies could reduce it. A considerable volume of excellent work has been produced on both. And, partly in consequence, the mainstream top-level debate has shifted: even IMF reports now express concern about inequality, and every government in the world has pledged to reduce inequality as part of the Sustainable Development Goals. But little consequent action has followed. The "what"-focused arguments which dominate the literature on inequality, are complemented by exploring "how"-focused arguments about the social processes through which inequality can be tackled; in other words, we can build on the recent focus on inequality as a problem (which it is, and which is now established) to addressing the apparent paradox that the mainstream consensus has shifted to recognise inequality without a consequent shift in action. Looking at history, this seems to connect to politics, and to this: all major equalizing change has involved a process of those outside the elite gathering together, building confidence and strength, and pushing for a fairer share.
That is why the Dandora garbage mountain gathering and the similar events that took place across the world are so important. The possibility for change will not come from elites at Davos, but it can come from a process of ordinary people organizing, and connecting their movements across issues and borders so that together they are strong enough to win the kind of shifts that meaningfully reduce inequality – that can move mountains.
Ben Phillips
Ben Phillips is the Launch Director of the #FightInequality alliance, member of the UNDP Civil Society Advisory Committee, and Rockefeller Bellagio Fellow.